Go Green Cold Pourable Crack Filler is polyurethane cold applied crack sealant, which is designed for cracks repair on asphalt and concrete pavements. It prevents cracks from becoming potholes by sealing them from the weather's destructive freeze and thaw cycles. It is safe and easy to use.
Product Advantages:
1. Ready to use, no cutting or heat needed
2. Excellent adhesion
3. With low maintenance cost
4. Flexible to allow for expansion and movement
5. Good waterproofing function
6. Strong weather resistence, won't flow at high temperature, nor brittle rupture at low temperature
7. Can be constructed at the temperature of -50 to 80 degree, suitable for use of the four seasons
8. Open to traffic soon
9. Suitable for inside and out
How to use?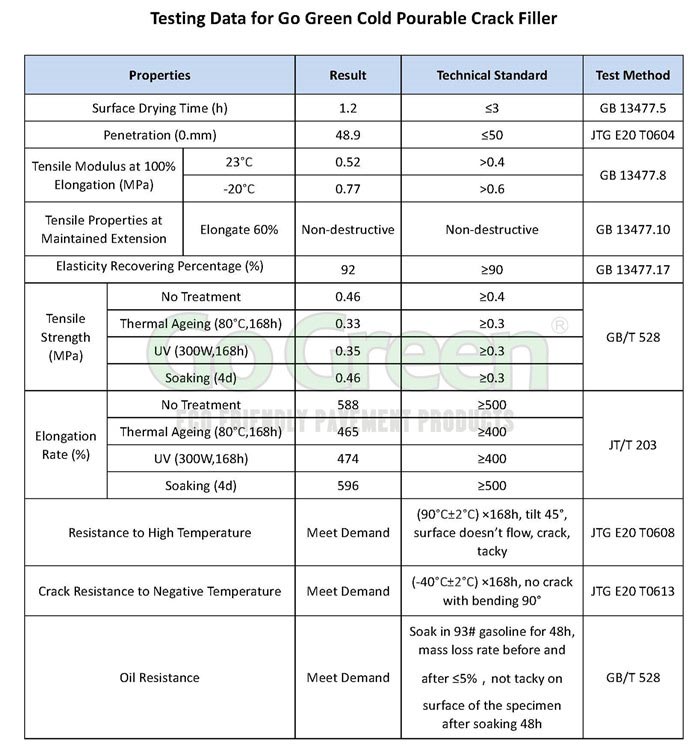 It is ideal for roads, highways, parking lots, and driveways. When properly applied, Go Green cold pourable crack filler can be driven over within 30 minutes without tracking.
Package: 4kg per bag 25kg per steel bucket
Package Name
Photo
Description
Container Loading

Go Green Pourable Crack

Filler-4KG Bag

Go Green Pourable Asphalt Crack Filler is a safe, easy-to-use, modified asphalt emulsion

crack filler designed for maintenance of asphalt and concrete pavements. It prevents

cracks from becoming potholes by sealing them from the weather's destructive

freeze and thaw cycles.

27 Buckets/Pallet

20 Pallets/20'FCL

Go Green Pourable Crack

Filler-25KG Bucket

Go Green Pourable Asphalt Crack Filler is a safe, easy-to-use, modified asphalt emulsion

crack filler designed for maintenance of asphalt and concrete pavements. It prevents

cracks from becoming potholes by sealing them from the weather's destructive

freeze and thaw cycles.

27 Buckets/Pallet

20 Pallets/20'FCL