Go Green Superior Cold Mix Asphalt is a superior permanent road maintenance material, uses a high performance polymer formulated to guarantee its good workability, applicable in all weather conditions and can works in water, repair both asphalt and concrete driveway, no tools needed, accept traffic immediately after installation.
Go Green superior cold mix asphalt is the ideal solution for potholes repair, pavement repair, utility cuts, manhole covers, water valves, drains repair, highway rutting repair, railway track filling and other repair applications. The product is easy to use, with a Performance Guarantee as a permanent repair. The product works in all conditions–including cold and wet applications. There is no tacking or mixing required. Simply apply, compact, then open to traffic immediately.
Go Green cold mix asphalt is eco-friendly material, has no harmful solvents and long shelf life ( two years). Go Green cold mix asphalt package in 20kg bag or 20kg buckets, also available in 1 ton bag, it is a cost effective road & pavement repair solution.
"It's a fast, permanent, easy to use, Eco benefit cold asphalt."-- Australian QLD council.
Why you choose Go Green Cold Asphalt ?

Advantages:
*Strongest and most durable
*Excellent workability
*Permanent repair
*Year-round use
*No special tools required
*Safe for you & the environment
*Patch sets right away
*No kerosene fumes or oily mess
*Two year shelf life
*Excellent Package
Go Green Cold Mix Asphalt Works in Water
Go Green cold mix asphalt will hold up as a permanent road patch and pothole repair even when water is present in the pothole. On compaction, the water will be displaced from the pothole until eventually all liquid is drawn from the pothole patch. Go Green cold mix asphalt will still seal off as a permanent road repair, pothole repair or driveway repair just as it would do in dry areas.
No Tar and No Primer Required
Go Green cold mix asphalt has a built in primer which means the mix is 100% ready to go when you purchase it. Simply compact the cold mix to a firm base and Go Green? cold mix asphalt will do all the bonding work for you.
Go Green Cold Mix Asphalt Doesn't Bleed
Go Green as the permanent pothole patch, pothole repair or road repair, it won't need to removed in the future prior to any asphalt overlay that may occur.
Open to traffic immediately
With Go Green cold mix asphalt , the repaired area can open to traffic immediately.
How to Use?
Potholes Repair
It is so simple anyone can do it
Step 1. Clean the hole of loose debris.
Step 2. Pour out the contents of the bag or bucket.
Step 3. Compact with tamper, shovel or even a car tyre.
Step 4. Accept traffic immediately.

Go Green Cold mix asphalt is available in 5mm, 10mm and also 14mm aggregate sizes.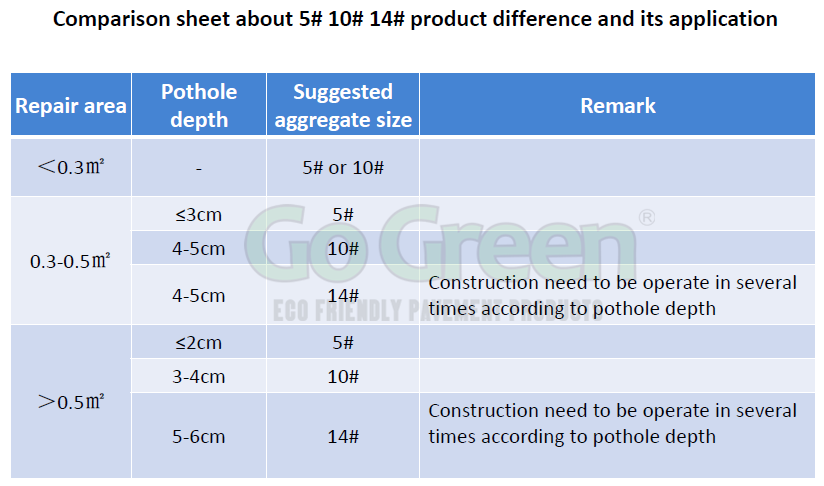 Test Result and Performance Evaluation
Test the cold mix asphalt samples of Go Green Industrial (Shanghai) Co., Ltd, the indoor test are shown as the following sheet, the evaluation standard is made according to the research achievements of Traffic Ministry West Project, which is the development and application research of High Performance Storage Type Cold Mix Asphalt.
Asphalt Cold Mix Performance Evaluation Index

Go Green Superior Cold Mix Asphalt is the ideal product for carrying out maintenance activities.
It can be used in concrete or bituminous pavements to repair potholes , utility cuts, road edges, water main breaks, also be utilized as permanent asphalt patch, trench reinstatements, man hole adjustments and waterproofing layer.
Go Green can be used in all weather conditions and is workable at temperate from below 25 degree to 50 degree.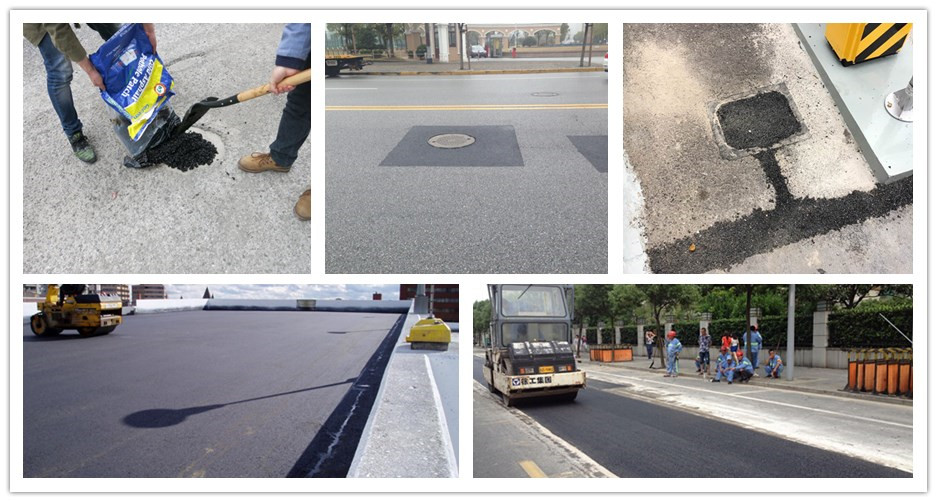 Job Quantity
60 kg of Go Green® superior cold mix asphalt will cover up to a hole of 1m2 by 25mm deep; Go Green® has a density of 2.4 tonnes per cubic meter.
The recommended layer thickness for placing Go Green® superior cold mix asphalt is 50mm. If thicker layers need to be placed, these should be placed and compacted layer by layer.
Package comes in 20kg bags, 20kg buckets and 1 tonne bags
Product Name
Photo
Description

Container Loading
Cold Mix Asphalt 5# 20KG Bag
Aggregates average size: 5mm.
5# is professional repair both asphalt and concrete driveway,accept traffic immediately after installation.
50Bags/Pallet
20Pallets/20'FCL
Cold Mix Asphalt 10# 20KG Bag
Aggregates average size: 10mm.
10# is suitable for asphalt paving and public works, deep pothole and big cracks repair,accept traffic immediately after installation.
50Bags/Pallet
20Pallets/20'FCL
Cold Mix Asphalt 14# 20KG Bag
Aggregates average size: 14mm.
14# is suitable for large pothole repair
50Bags/Pallet
20Pallets/20'FCL
Cold Mix Asphalt 5# 20KG Bucket
Aggregates average size: 5mm.
5# is professional repair both asphalt and concrete driveway,accept traffic immediately after installation.
48Buckets/Pallet
20Pallets/20'FCL
Cold Mix Asphalt 10# 20KG Bucket
Aggregates average size: 10mm.
10# is suitable for asphalt paving and public works, deep pothole and big cracks repair,accept traffic immediately after installation.
48Buckets/Pallet
20Pallets/20'FCL
Cold Mix Asphalt 1 Ton Bag
Aggregates size available for both 5mm, 10mm, 14mm
1Ton bag/Pallet
20Pallets/20'FCL