Stamped concrete, also known as stamped floor, imprinted or embossed floor. One time molding on site with unique pattern frame, using advanced technology, with strict construction management, imprinting on site through special mold, demolding, spraying protection agent and sealant curing treatment, can make the ground permanently present a variety of colors, patterns and textures, making it better effect of wear-resistant, pressure-resistant and anti-slip, making it easy for people to realize the concept of harmony and integration between buildings, human environment and natural environment.

Product Features
1. Any combination of pattern and color, the whole molding is completed in one time, which solves the problems of common road brick of poor overall integrity, unevenness, easy looseness and short service time.
2. Using inorganic pigments, environmentally friendly, the color is firm and durable, good UV resistance function, suitable for complex and varied climate conditions such as temperature and humidity.
3. The compressive strength can reach 80~100MPa, which is 2~4 times of ordinary concrete materials, and the wear resistance is good.
4. Oil-proof, waterproof, non-slip, the surface will not crack, fall off or fade.
5. Rapid construction, economical, durable, long-lasting, and service life is much longer than general cement concrete floor decoration materials.
6. Strong sense of three-dimensional, easier to show the architectural style of modern cities.
1. Color enhancer: this product is 30kg/bag, a nanomaterials mixed by introduced American Anruili (ANRUILI) enhancer, BAYER colorant and silica sand, silicon carbide, corundum, titanium dioxide, carborundum, high standard white cement, nanometer silica fume, omi fiber and nano znic oxide. Chemically reacted with the surface layer of concrete, penetrate concrete surface layer, enhance concrete strength, and change the surface structure and color of concrete. Standard dosage: 3kg/m2
2. Coloring mold release powder: this product is 15kg/bag. It introduces American Anruili release agent, BAYER colorant and nano-carbon calcium powder, can form interlayer between reinforcing material and the mold and dilute the concrete surface color, play the effect of mold release, secondary coloring and curing. Standard dosage: 0.15kg/m2
3. Sealing Protectant: this product is 20kg/barrel. It introduces American Anruili DX-16, BAYER A907 brightener and epoxy resin, environmentally friendly (benzene-free) type, sealing and curing concrete. Increase strength and color protection of surface and anti-oxidation, anti-ultraviolet radiation, standard dosage: 0.2kg/m2
Reference Color Card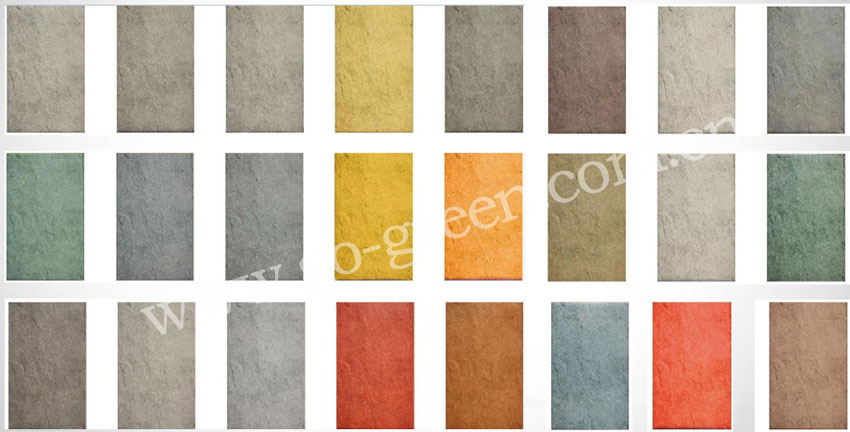 Embossing Type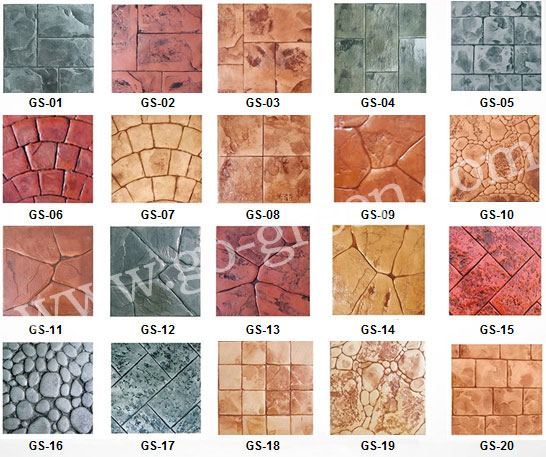 1. Municipal works: streets, sidewalks, road barriers, theme parks, cultural squares, landscape projects.
2. Business: business buildings, hotels, restaurants, bars, large shopping malls, convention center, supermarkets, shops, parking lots.
3. Residential: apartments, villas, residential quarters, courtyards, gardens, indoor floors.
4. Entertainment: parks, playgrounds, water pools, swimming pools, resorts, golf courses.
5. Others: industrial plants, schools, kindergartens, bus stops, interior and exterior decoration.

Color enhancer: 30kg/bag
Coloring mold release powder: 15kg/bag
Sealing Protectant: 20kg/barrel