Go Green Micro-Paving Cold Mix Colored asphalt is new patented high technology product. It uses cold mix processing and ultra thin overlay technology, the materials can be storaged and shelf life unopen six months. Its suitable for landscape, bicycle lane, footpath, garden etc light traffic driveway paving, the paving thickness only require 1.0-1.5cm, which greatly reduce the material cost.
Main Features of Go Green Micro-Paving Cold Mix Colored Asphalt.
Go Green Micro-Paving Cold Mix Color Asphalt has some basic performances such as soft, easy to compact, water stability, long shelf time, excellent strength, construction at normal temperature, they are generally described as follows:
A. Cold mix technology. Paving thickness only 1.0-1.5cm
B. Noise reduction, anti-slip and fog-proof
C. Stick to the original pavement surface closely
D. Storage up to 6 months
E. Excellent resistance to water damage
F. Environmental Protection
G. Construction time no limitation
H. Different colors available, lively colors protection
I. Open to traffic after six hours
Different Color Available
Color Options


Standard Color: Red, Green, Blue, Beige, Yellow, Orange, Brown, Grey, White and a natural finish.
Other colors and designs are available, please contact us of your special requirement.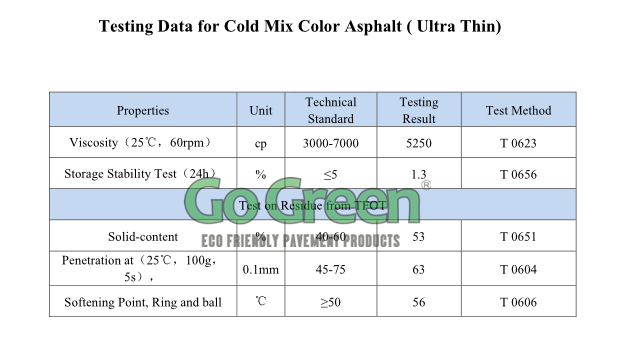 Application Area:
Landscape, garden, footpath, bicycle lane etc light traffic driveway areas.
More Functions:
Go Green Micro-Paving Cold Mix Color Asphalt can also be used for original black asphalt pavement reconstruction, its re-paved in the orignal pavemnt, can effectively improve the existing pavement surface smoothness.
Package: 20kg bags or 1 ton bags.
Package Name
Photo
Description
Container Loading

Cold Mix Color Asphalt

20kg Bag

Cold Mix Color Asphalt go to a beautiful way, it is professional used mainly on roads, car parks, and path ways.

Paving thickness only 1.0-1.2cm and open to traffic after six hours.

50 Bags/ Pallet

20 Pallets/ 20'FCL

Cold Mix Color Asphalt

1 Ton Bag

Cold Mix Color Asphalt go to a beautiful way, it is professional used mainly on roads, car parks, and path ways.

Paving thickness only 1.0-1.2cm and open to traffic after six hours.

1 Ton bag / Pallet

20 Pallets/ 20'FCL