Product Introduction
Go Green waterproof anti-corrosion coatings (WAC) is a high performance infiltrating new material with a micro-molecular structure, which could deeply penetrate into concrete, mortar trowel and steel structure capillary water wall, react with water forming into interpenetrating network with strong chemical bond. The combined reaction provide long term hydrophobicity to the microstructure of cement concrete, steel components, etc., and maintain the breathable function, which greatly reduces the intrusion of harmful chloride ions and ensures the concrete structure, mortar coating, and various steel components are protected against corrosion with good waterproof sealing function.
The waterproof anti-corrosion coatings conventional color is white and grey, we can also customize the special color according to customer requirement.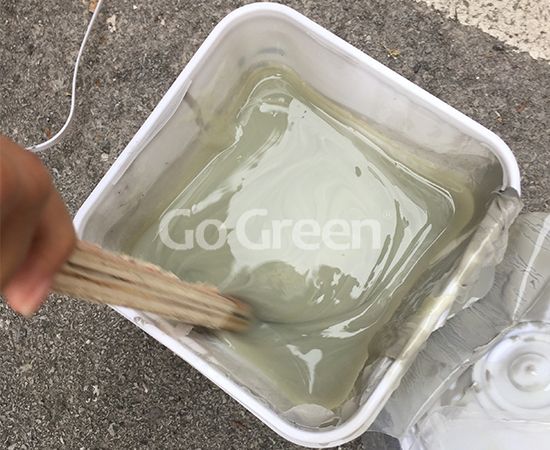 Product Features:
1. Excellent water resistance function, high elasticity and adhesion, good overall film formation.
2. Excellent acid and alkali resistance, good thermal insulation, high temperature resistance up to 150℃, low temperature resistance to -50℃, good UV resistance.
3. Good anti-aging function, weather resistance up to 20 years.
4. Non-toxic, odorless, no pollution, environmental friendly after curing.
5. Wide application range, both flat surface and vertical surface can be used.
6. Easy to operate, construction is convenient.
Dosage:
Stir the coatings before construction, using the roller or brush to spread the coatings evenly, each time spreading thickness is 0.3-0.5mm, usually spread two times, dosage is 500-700g/m2.
Go Green Waterproof Anti-corrosion Coatings Test Data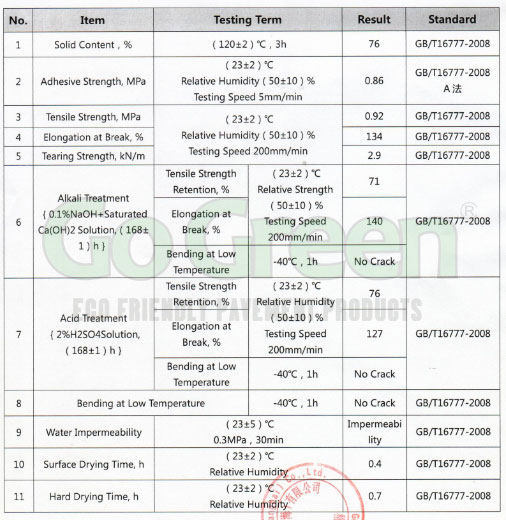 Application Range
Seaport projects: seaport bridges, seaport wharf, sea gates, breakwaters etc.
Traffic engineering projects: highway bridge culverts, railways, urban interchange bridges, highway crash walls, etc.
Industrial facilities: hydraulics, sewage treatment ponds, etc.
Civil buildings: roofs, floors, glass tiles, tri-tiles, steel structures, planting roofs, reservoirs, fiber cement boards, concrete mortar, lightweight blocks etc.
Other projects need prevention for waterproofing, anticorrosion, anti-seepage and moisture protection

Package: 4kg bag (sample), 25kg/200kg bucket